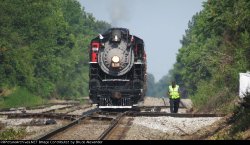 Welcome to the RRPictureArchives.NET contributor site of Bruce Alexander.


A normal railfan outing for me will be along the NS S Line (Salisbury - Asheville), the NS Main Line (Salisbury, Greensboro, Charlotte, etc), the NS L Line (Winston - Mooresville), the NS O Line (Charlotte - Mooresville), CSX lines within 100 miles and shortlines (Alexander RR, Caldwell County). I may occasionally make a trip to a well known spot or just go somewhere that I've never been. To me, trains are trains! I do not withhold taking shots just because of all NS or CSX locomotives leading as some people do. I shoot them all and sort it out later!



You may browse my collection of pictures via the menu located on the left hand side of the page. I hope you enjoy the collection and thanks for stopping by!
Note: This site is best viewed in Internet Explorer 6.0 or above.
Select one of the links from the menu on the left to begin browsing the collection.